Skull clothing has a toughness about them that is incredibly chic, and there are many different interpretations and styles of this fashion trend, all with their own unique personal appeal. As there are many different kinds of skull clothing for women, however, skulls are not exclusive to Halloween costumes. We think we should give you some inspiration for the skeleton clothing suitable for everyday wear to inspire you to add or expand this fashion element in your own wardrobe.
Trendy Skull Graphic T-shirts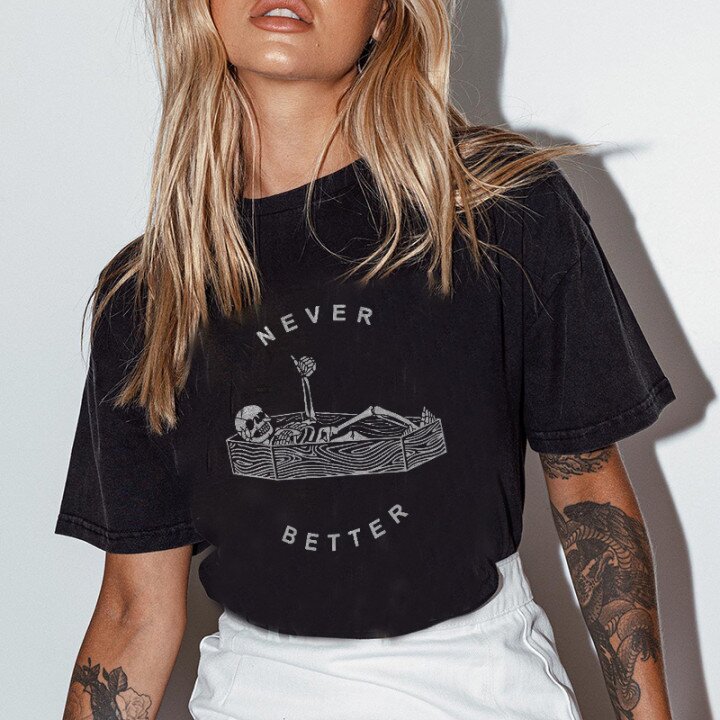 Give your style a wicked upgrade by adding this Never Better Skull Print T-shirt. It combines the casual aesthetic with the dramatic elements of street branding - A skeleton in a coffin with a thumb up. It works well with your favorite jeans or bike shorts from any sportswear collection.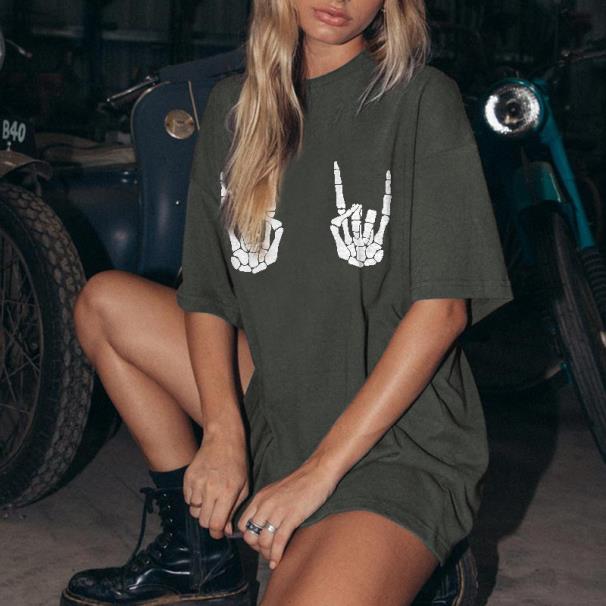 Show off your gothic rock style with this Cool Skull Hand Posture Print Tee. This minimalist boyfriend tee features a skeleton rock 'n' roll gesture print. Relaxed fit. Soft and smooth feel that is gentle on the skin. Pair it with jeans, shorts, or skirts on warm days.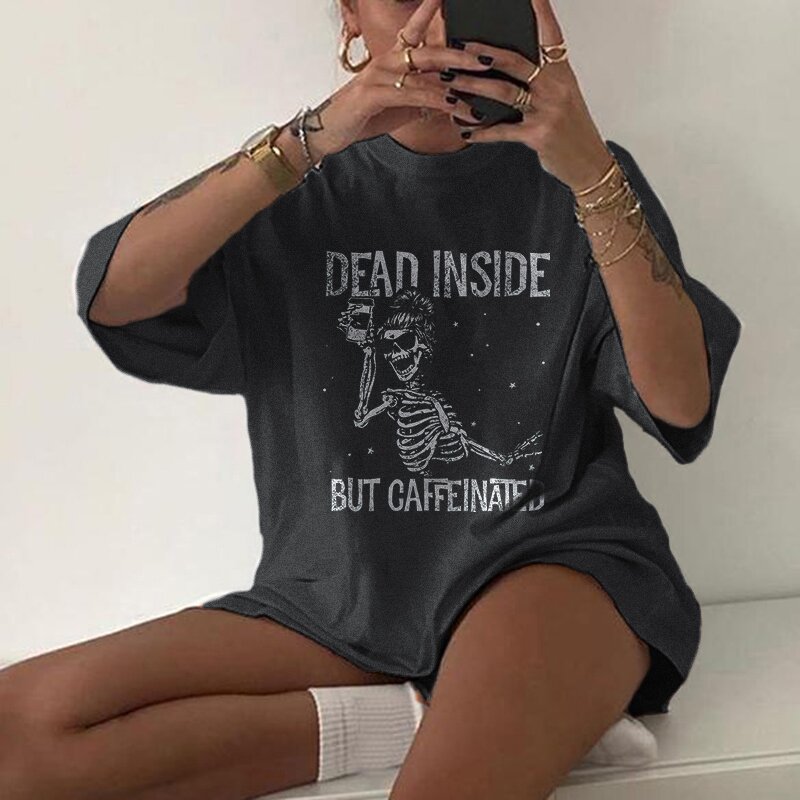 This oversized cotton tee features a faded vintage finish and a skull-themed print, including the captions of "Dead Inside But Caffeinated Skull T-shirt". If you're a coffee-lover, add this amazing tee to your shopping cart ASAP.
Latest Skull inspired Sweatshirt and Hoodies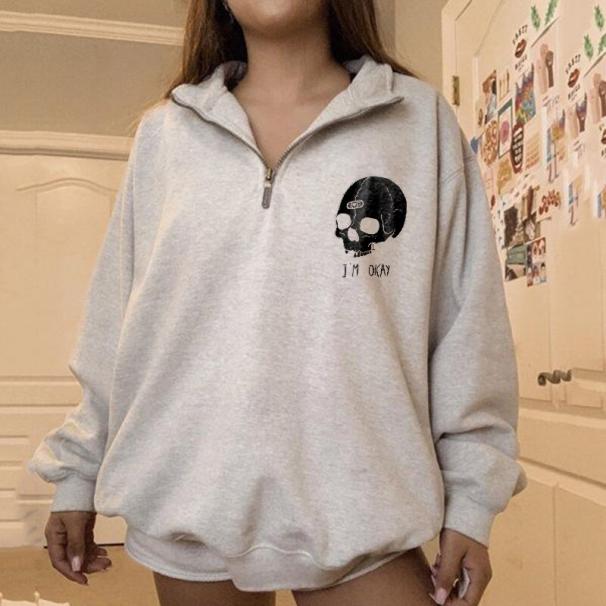 This I'm Okay Skull Printed Comfortable Zipper Sweatshirt is made of pure cotton, and the lazy and loose fit adds a wonderful charm. The chest is decorated with a classic symbol - A simple skull and I'm okay words, designed to pay tribute to the logo craze trend.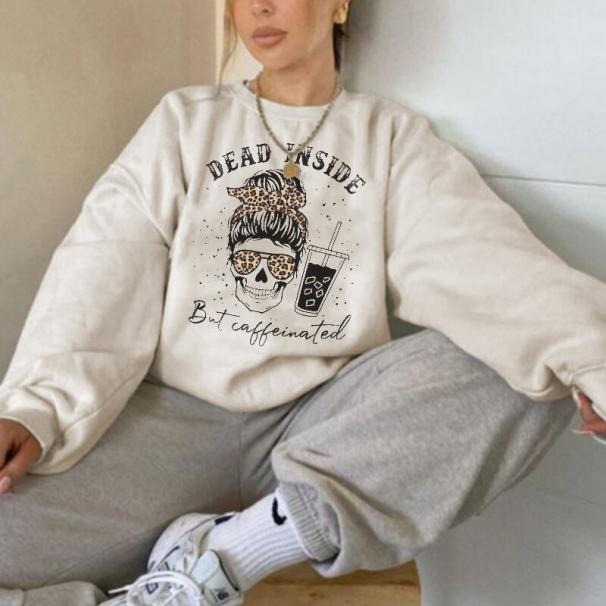 Our creative approach reinvents Dead Inside But Caffeinated's graphic design with a playful twist. Adding a delightful leopard print element, this cozy sweatshirt is adorned with a lovely vintage print, embellished with starbursts. The slouchy, oversized fit and soft cotton fabric are suitable for year-round wear.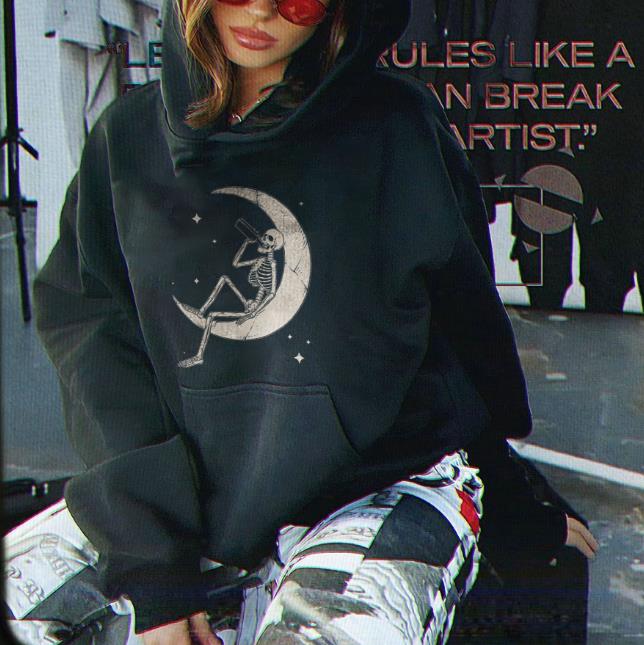 Made from pure cotton, the unbelievably comfortable silhouette features an oversized fit with long sleeves that fall to the wrist. The chest features a fun design with a drunk skeleton sitting on the moon. We recommend trying this Alcoholic Skeleton On The Moon Hoodie with high waist jeans for a cold-weather look.
What's Next?
We hope we've inspired you to add more of these individual skull apparel to your wardrobe and truly enjoy this incredible trend. Minnieskull knows how to create classic wardrobe must-have items, and there's more to explore on our website! Hope to see you very soon in our next blog post!